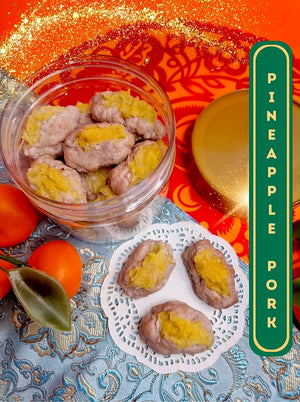 Pineapple Pork (Human Grade Quality)
Inspired by yearly Chinese New Year Ong Lai Tart. Full of indulgence and sinful treat yet satisfying through the sweetness sour of pineapple bits , buttery pastry.
This Year of the Rabbit , we are presenting our Pineapple Pork for doggos. Fresh Pork Meat stuffed with all natural Pineapple topping, all pineapple pork comes in a CNY bottle and kept fresh for 3 months in the freezer. Given as a treat anytime from the freezer or pop into meal bowls as extra protein during CNY celebration.
It's so delicious that humans can enjoy it as well. 


Let's Ong and Huat together!!!