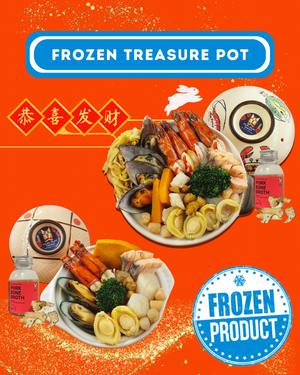 Frozen Treasure Pot
This selection are Frozen Treasure Pots instead of Fresh.
Able to store up to 3 months in the freezer.
Why choose frozen?
You get a $10 off these frozen goodies, just heat over fire and ready to serve. Most importantly you can request for any usual delivery days that we have on Thursday , Friday and Sunday and would not have to stick to fresh Treasure Pots delivery options which is limited. 
Traditional Treasure Pot For Dogs. 
Ready to eat treasure pot served in Quality Japanese Claypot , able to reheat over fire with the Por Collagen Broth included. 
Abundance Treasure Pot (Serves 1-2 pax)
🈵2 x Abalone
🈵2 x Fresh Prawns
🈵2 x Salmon
🈵2 x Fresh Scallops
🈵2 x Green Lipped Mussels
➕Pork Shabu Pineapple Roll (NEW)
➕Dried Scallops
➕Broccoli
➕Pumpkin
➕Raddish
➕Goji Berries
➕FREE Tonkatsu Dang Gui (Ginseng) Pork Bone Broth 
Grand Feast Treasure Pot (Serves 3-4)
🈵4 x Abalone
🈵4 x Fresh Prawns
🈵4 x Cod Fish
🈵4 x Salmon
🈵4 x Dory Fish
🈵4 x Fresh Scallops
🈵4 x Green Lipped Mussels
➕Pork Shabu Pineapple Roll (NEW)
➕Dried Scallops
➕Broccoli
➕Pumpkin
➕Raddish
➕Goji Berries
➕FREE Tonkatsu Dang Gui (Ginseng) Pork Bone Broth


Delivery/Self Collection to be advised once order is made*