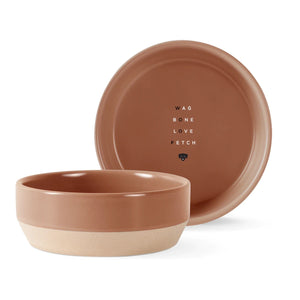 WOOF STONEWEAR DOG FOOD WATER BOWL
Because meal times are happy times!
All the dog's favourite things. Wag, Bone, Love, Fetch. Of course, not forgetting daily meals and titbits!
Made with stoneware, this Food and Water Bowl is matte glazed with an exposed clay base, and beautifully designed with decal art.
Dishwasher safe. Microwave safe.
Material: Stoneware
Size: 6.375" diameter by 2.375" height, medium
Caution: Always hold the base to prevent bowl from slipping off especially when bowl/hands are wet.